Colorado Clinical and Translational Sciences Institute (CCTSI)

Needs Assessment, Outcome & Impact Evaluation
Overview
The Colorado Clinical and Translational Sciences Institute (CCTSI) at the University of Colorado (CU) is a partnership of CU-Denver- Anschutz Medical Campus, CU Boulder, Colorado State University, six hospitals and 20 community organizations. The Evaluation Center provides external evaluation of the numerous CCTSI resources and programs.
Primary Aims
Provide formative, process and summative evaluation for the CCTSI
Support the evaluative efforts of specific CCTSI core functions to enhance the rigor and meaningfulness of these efforts
Participate in and contribute to Common Metrics Initiative
The CCTSI is supported by NIH/NCATS Colorado CTSA grant number UL1 TR002535.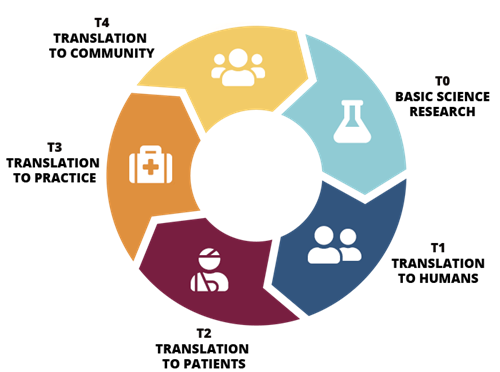 Administrative Core
The Evaluation Center project lead is a member of the CCTSI Executive Committee and prepares presentations for the External Advisory Committee. The Evaluation Center prepares an annual Research Performance Progress Report (RPPR) and reports on the CTSA-wide Common Metrics. 
Our team conducts institute-wide needs assessment surveys and evaluates various resources and conferences supported and hosted by the CCTSI. These include:
Clinical and Translational Research Centers
CU-CSU Annual Conference
Pediatric Poster Conference
Research Ethics Conference
Research Studios Program
Workforce Development
The CCTSI offers a variety of funding and training opportunities for graduate students, post-doctoral trainees, junior investigators, and their academic mentors to enhance the pipeline for clinical and translational research. The Evaluation Center works closely with program directors to conduct pre/post assessments, focus groups, alumni surveys, and tracking of participant outcomes for the following CCTSI educational training and grant review programs:
Team Oriented Training across the Translational Sciences Spectrum (TOTTS or TL1 Program)
Teaming for Early Career Researchers
CO-Mentor Training
KL2 Mentored Career Development Award
Communicating Your Science to the Public
Leadership for Innovative Team Science (LITeS)
Pre-K Grant Review Program
K to R Grant Review Program
Translational Pilot Grant Awards
The CCTSI Translational Pilot Grant Program provides a variety of grant types to support cross-discipline and collaborative research in clinical and translational methods. The different grant programs support high quality research from pre-clinical to practice in community settings. Grant programs focus on the cellular and molecular level, pre-clinical research in animal models, clinical research in humans, research with children of all ages as well as pregnant women and mothers of newborn and young infants, development of novel methods and innovative technologies, and applications of interventions in clinical and community settings.
 The Evaluation Center uses bibliometric analysis to track outcomes including follow-on funding, publications, patents, new technologies, and return on investment for up to five years after initial funding. Evaluators also assess program satisfaction and diversity among pilot awardees for the following translational pilot grant award programs:
Colorado Pilot Program (CO-Pilot)
Community Engagement Pilot Program
Child and Maternal Health Pilot Program
Translational Methods Pilot Program
Community Engagement
The CCTSI places a high priority on engaging community members and other stakeholders in the full spectrum of clinical and translational research. The Community Engagement Core engages patients and communities as active partners in research to address community priorities. They offer innovative programs on the core principles of community-based participatory research, to develop skills to engage community partners in research, and to spend time in a local Colorado community to learn first-hand about the community and begin relationship-building.
The Evaluation Center provides evaluation of the following Community Engagement programs and resources:
Colorado Immersion Training (CIT) Program
Community Research Liaisons
Community Engagement Consults
Community Engagement Pilot Program
Evaluation Approach
A multi-methods approach is used across all the evaluations including:
Surveys
Focus groups
Quantitative analysis, including bibliometrics
Grant and participant tracking
Needs assessments
Formative and process evaluation
Summative evaluation
POPULATION SERVED
Graduate students, Postdoctoral Fellows, Faculty, and Community Research Liaisons across CCSTI and its partner organizations